【Voice of professional】Connecting to various people and laughing together—that is what work is supposed to be like.-
PREX

Island
Enterprise managers

Working style


【Voice of Professional】 Connecting to various people and laughing together—that is what work is supposed to be like Vol. 1

Here, we would like to introduce the interview with Mr. Tanaka CEO of Kinki Industrial Co., Ltd.

Many PREX past-participants of JICA Knowledge Co-Creation Program have visited Kinki Industrial Co., Ltd.
All the time, Mr. Tanaka, CEO of  Kinki Industrial Co., Ltd. explained about importance of "human resource" with passion. 

This time, PREX follow-up team visited Mr. Tanaka for interview to ask more deeply his philosophy about management.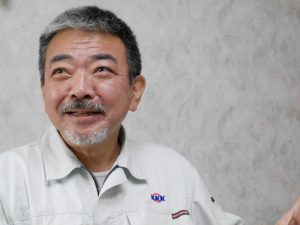 I talked online with administrative officers from various countries at a JICA knowledge co-creation program.
Due to the effect of the COVID-19 pandemic, the circumstances surrounding small and medium-sized enterprises have been changing.
Even if you lament over such circumstances, nothing can be done. The only thing we can do is imagine what the market requires under such circumstances and change ourselves.
Otherwise, I think we will not be able to survive.
For instance, let's think about teleworking.
Ask ourselves if we are going back to the habit of commuting by crowded train after the COVID-19 pandemic. Probably around 30 percent of workers will continue teleworking.
If our company continues manufacturing the parts related to railways in such a situation, production will be reduced by around 30 percent. We should imagine that bicycles or buggy cars might replace trains; if so, what could we do? We need to consider such a situation and improve our technology.
Five Human Abilities to adapt to changing situation
In this way, humans need to come up with various ideas to adapt to the situation by predicting future trends of the whole of society; for instance, changing the company's kaizen targets to adapt to such a situation.
To strengthen the "five human abilities" to adapt to changing situations, Kinki Industrial have been carrying out human resources development. It has been 14 years since we started it, and I have had many occasions to realize our employees' development.
What are the "five human abilities"?
① Having curiosity to changing circumstances
② Acting quickly
③ Making sure to complete something until the result is achieved, once you start it
④ Possibility thinking with a smile
⑤ Most importantly, communication ability: conveying your thoughts and understanding others' thoughts
As our company consist of 20 workers, we don't need to think hard to disseminate the five human abilities. I just closely watch our employees' ways of working and handling things, and ask a barrage of questions to make them think for what, for who and what they want to do. The same goes for disseminating management philosophy.
★ Question from a participant
Q: Your virtual factory tour helped me grasp the inside of your company.
Its size is not that big, but its new facilities are well equipped. I understand that four out of 20 employees are females. Is it because you intend to eliminate gender discrimination?
A: I often say to look at one thing from many angles. I thought that if there were only male workers at our factory, things could be looked at from only one side.
I would also like to develop metal processing business where female workers participate. Currently, Chinese, and Vietnamese people also work with us.
Date : October 25, 2021
Name : Mr. TANAKA Soichi,
Seminar : JICA Knowledge Co-Creation Program Small and Medium Enterprise Development Policies (B), JICA Small and Medium Enterprise Development Policies(A).JICA Online Program, Small and Medium Enterprise Development Policies
job name : CEO