【Voice of Professional】 Tomoyasu Works Co., Ltd. Good change in this COVID-19 era (1)-
PREX

Island
Enterprise managers


【Voice of Professional】 Tomoyasu Works Co., Ltd. Good change in this COVID-19 era (1)

Here, we would like to introduce the interview with Mr. Tomoyasu Hironori, Tomoyasu Works Co., Ltd. (Yao City)

PREX past-participants of JICA Knowledge Co-Creation Program visited Yao city during the course and exchanged opinion with Mr. Tomoyasu.

In this interview, he told us how he maintained his business, and positive change of relationship with his employees. Even situation is tough, he utilized this opportunity and make progress about his business.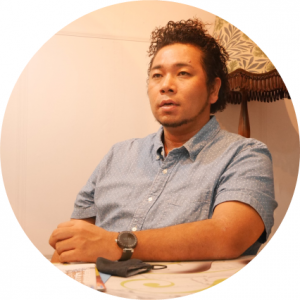 What has been the impact of the increasing spread of novel coronavirus infections?


(Mr. Tomoyasu)
It has been said that the overall percentage of companies that have sustained a negative impact to their business performance due to the increasing spread of novel coronavirus infections has reached up to 80%.
Despite such conditions, however, our company's customers are not only able to continue purchasing through our online shop, but they are also able to come meet us face-to-face at our cafés and construction contracting offices.
I believe that the fact that we are able to continue earning the trust of our valued customers and to continue doing business while dealing with the extraordinary circumstances related to the coronavirus, is the very result of the importance we have continued to place on "branding," as well as the variety of creative initiatives we have engaged in, such as those seen in our public relations and information sharing efforts.
At first glance, public relations efforts may not appear to some as an activity that can directly lead to generating profits. Some may even adopt an attitude that not much can come from such things as being featured in a publication or by holding public speaking events.
Despite such opinions to the contrary, we have continued to place a steady and unwavering focus on the branding and marketing methods that we have placed our faith in, and this focus has helped us to build a foundation on which we can communicate with our customers even under such extraordinary circumstances, thereby enabling us to steadily increase our sales.
Through this experience, we have been able to once again recognize that we shall not fail in our endeavors as long as we continue to place an unwavering faith in these methods that we believe in.
How has this affected the way your employees work?
(Mr. Tomoyasu)
Our employees are creatively and proactively making the best of the situation as they adjust the way that they work by dealing with the increased coronavirus related demand for "vinyl curtains" (a product that until now has been used for such purposes as protecting from the cold), as well as making use of the period that the cafés were closed to do such things as renovate the open-air terraces and create manuals for implementing infection prevention measures.
Customers who have visited our cafés have praised our efforts by commenting on social media that "reliable infection prevention measures are being taken at the Tomoyasu Works cafés," and we are grateful that such positive word-of-mouth is being generated.
The role of a company president is to "protect jobs." In such a role, I am expected to provide employees with encouragement during busy or stressful times. This time around, I believe that a significant burden was placed on our employees in our Logistics Division in particular, as they continued to show up to work while dealing with their concerns that they may get infected.
When taking into account the safety of our workers, some could argue that it may have been better to suspend all business operations, and in fact, while some companies did go this route to protect the safety of their employees, I, however, determined that our company "could not continue doing business if we were to suspend our operations." I would have to say that I don't know what the truly correct answer was in this case.
In July, we suspended our work-from-home policy and returned to normal working conditions. Although we did have a few employees who "wished to continue working from home," we were able to gain their understanding by explaining to them the reasoning behind why our company did not intend to fully implement a work-from-home system as a company policy. At Tomoyasu Works, our employees have been able to receive inspiration from each other within the physical spaces that we use as our "offices," and this has enabled them to create a variety of new ideas. Our impression was that there is a significant component that is generated through "meeting face-to-face," and that innovation cannot truly be achieved through remote working.
Rather than focusing solely on efficiency, we believe that our identity as a company relies on the communication that we engage in as we work together in the same space. This is one thing that we would like to place great importance in.
Date : October 15, 2020
Name : Mr. Tomoyasu Hironori
Seminar : JICA Small and Medium Enterprise Development Policies (B)
job name : Company President
関連記事