【Voice of Professional】 Tomoyasu Works Co., Ltd. Good change in this COVID-19 era (2)-
PREX

Island
Enterprise managers


【Voice of Professional】 Tomoyasu Works Co., Ltd. Good change in this COVID-19 era (2)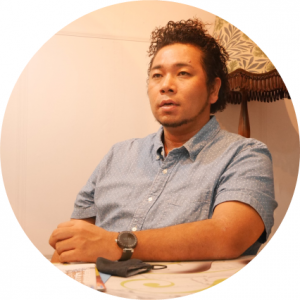 What kind of things do you discuss with your employees?

(Mr. Tomoyasu)
As a business executive, I consider myself fortunate for having the opportunity to make executive business management decisions during this "era of the coronavirus," which will most likely leave its mark on our school textbooks, and I make sure to express my gratitude toward my employees.
During normal times, as I would usually travel abroad quite frequently, I would only have limited time to spend in face-to-face interaction with my employees, however, as these turn of events have led to me spending extended amounts of time at the office, I have been able to find time to speak with my employees, and I was able to learn more about how they engage in work on a daily basis through such things as performing product management and shipment work together with other staff members.
During the period where we were engaging in remote work, I could feel that the employees coming to the office and those working from home were both enduring a significant amount of stress. For workers coming to the office, they would have to work while worrying about the risk of being infected, and for employees working from home, they were burdened by having to work under circumstances that were less convenient than normal.
Hoping to at least lighten this burden even just a little bit, I went ahead and selected some gifts and packaged and delivered them to all company employees as a token of our appreciation for their continued service under such conditions. These gifts included bath salts to help them refresh themselves, extension cables, snacks, and a message, and I thought about each and every employee as I created the shipping labels for the packages. I believe that these trying times we are going through right now have also blessed us with opportunities such as these.
Our company's employees really are trying their hardest. For other companies, I have heard that in some cases after switching to remote work, the only work they would actually do would be to report that they were "starting work or ending work" for a given day. In the case of our company's employees, they began moving forward with their own plans to produce videos on "DIY activities that can be done while at home," and to share this information via Twitter and YouTube.
Instead of lamenting what can't be done because they weren't at the office, they assessed the situation and took action on their own. I believe that we owe the strength of our company's sales figures to the efforts of such employees. They are constantly coming up with ideas that could benefit the company.
When I held an interview with an employee that had joined us 3 months prior as a mid-career hire, the employee mentioned that "there are no other companies where the staff are so dedicated in their work," and it was very pleasing to hear such a comment.
It sounds like you've cultivated positive relationships that allow your employees to freely express themselves.
There is not that much distance between myself and my employees. With that said, however, it is difficult for me to fully understand each and every employee on my own. We have assigned executives to each of our divisions who oversee our individual business operations.
Oftentimes, I hear people mention that it is desirable to aim for a "flat organization," however, in my opinion, I believe that we should aim for an organization that has a hierarchy, and that it should be structured in a bottom-up rather than a top-down manner, and that it should grant employees the freedom to say such things as "this is the approach that I would like to take" and to discuss new ideas.
Having superiors in the workplace can bring peace of mind to the staff members in some cases, and when performing work, a certain degree of pressure from above is necessary. I believe that such an organization allows for overall growth.
As a future development we are currently considering, we are hoping to conceive of a "Tomoyasu Economic Zone," which will allow the Tomoyasu Works brand to link up with a wide array of scenarios that consumers encounter.
For example, there are cases where consumers that are initially purchasing products from our e-commerce website or have requested home renovation work to be done at our construction contracting offices eventually take an interest in the rental spaces that we offer, as well as cases where visitors to our rental spaces or cafés come into contact with the furniture that can be found there and suddenly become interested in hearing about proposals related to interior design and living/working spaces.
By taking our individual business operations that are being developed separately from one another and by connecting them and integrating them in a tightly-knit manner, we hope to bring ourselves closer to fulfilling our core company mission goal to "add colors to everyone's home – taking our products and integrating them into the lifestyles of people the world over -."
---
Business operations:
The company primarily focuses on retail sales through their online shop of products used for interior design, such as curtains, curtain rails, and wall stickers/decals, DIY items, such as floor materials, tiles, and wallpaper, as well as materials designed for professional-use, such as vinyl curtains and nets.
At their Tomoyasu Works cafés, which are located in Asakusabashi in Tokyo and Abeno in Osaka, visitors can enjoy partaking in food and beverages, as well as engaging in DIY experiences as they immerse themselves in the stylish store interior that features the latest in interior design and DIY items.
Through its YouTube channel, the company also features such things as a series of "Home DIY" and "DIY Challenge" videos that provide viewers with information to allow them to have more enjoyable DIY experiences. 
https://www.youtube.com/user/colorsInterior/featured
Awards won:
"Award for Excellence as a Company/Workplace Exhibiting High Productivity"
Selected as one of the "Growing 300 Small and Medium-Sized Enterprises/Small Businesses to Watch"
Received mention as a "Small or Medium-Sized Enterprise of Merit That Actively Contributes to Yao City's Local Economy"
Selected as one of the distinguished "100 New Diversity Business Management Companies" for 2019 (in addition to many more awards of note)
---
Date : October 15, 2020
Name : Mr. Tomoyasu Hironori
Seminar : JICA Small and Medium Enterprise Development Policies (B)
job name : Company President
関連記事