Training for Vietnamese leaders of Japanese companies (Oct., 2021)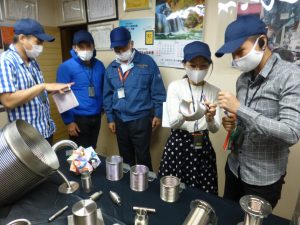 This seminar is targeting the Vietnamese employees who work at Japanese companies. Purpose of this seminar is to foster the core human resources who can act as a leader at respective company's manufacturing site.
All participants studied hard about management philosophy, effect of Kaizen activities, importance of teamwork and how to foster leaders at working site through the lectures, company observations and practices during this seminar.
At the end of this course, they made a presentation about how and what to utilize the findings and knowledge they gained in this course. And they also explained the the goals after going back to each company. Their superior also listened their subordinate presentation by online.
We wish this seminar helped participants to grasp the deeper understanding on enterprise management.
Course Outline
★Date: from October 1st to 23rd October 2020 (10days)
★Participants: Four (4) Vietnamese employee who work for Japanese companies
★Course Leader: Mr. Masayoshi Utsumi (Creation Co., LTD.)
Places visited and lecturers who provide lecture for participants
1) Corporate identity
   Bell Co., LTD.
2) Kaizen
   Yamada Manufacturing Co., LTD., HIGUCHIKOUKAN Inc.
3) Organization Management
   Higashio Mech Co., LTD.
4) Human resource development
   Mitsumoto Rasenkan Kogyo Co., LTD.
(Hyodo, International Dept. PREX)
Please send e-mail if you haven any inquiry.
prexhrd-pr@prex-hrd.or.jp