Ritsumeikan University Master's Program in Economic Development :September 16th – 20th , 2019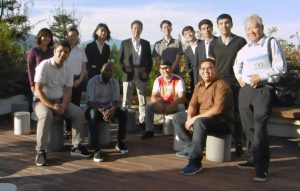 What is this course for?
    This program is implemented for the foreign students (graduate school of economics,  Ritsumeikan University) to deepen their understanding of public and financial support  for small and medium-sized enterprises (SMEs) in Japan.
 Although they are currently "students" in Japan, still working for the government, financial institutions, NGOs, private enterprises, etc. in their own countries. They are highly interested in the supporting policy and activities for SMEs. They should apply the experience of this program to their research and thesis in Japan and/ or to their own duties.
     In this program, the participants have opportunities to visit banks, governmental organizations, SMEs and large-scale company to learn each activity individually
Course Outline
★Date: September 16th, 2019- September 20th , 2019
★Participants: 7 students of Master Degree and 7 students of undergraduate ★Countries: Albania, Myanmar, Nigeria, Sudan, Tanzania, Vietnam, Zambia
★Course Leader: Prof. Kiyoto Kurokawa ,Ritsumeikan University
Course implementation is entrusted by Ritsumeikan University
Places visited to deepen understanding to achive each Expected Module Output
Bank of Kyoto
Kyoto Branch, Bank of Japan
HAMADA.CO.,LTD.
METI-Kansai
Shiga Prefectural Government
Shiga Prefecture Industrial Support Center
Appliances Company, Panasonic Corporation
(Hazama. A, International Department, PREX)
Please send e-mail if you haven any inquiry.
prexhrd-pr@prex-hrd.or.jp