Ritsumeikan University Graduate School of International Relations Business Management Program
During this program, students taking 'professional training' as part of their doctoral course at the Graduate School of International Relations, Ritsumeikan University, learned management methods and practical management (manufacturing, accounting/finance, human resources/labor) used by Japanese companies, and took part in opinion exchanging sessions with Japanese companies. Through these activities the students were able to acquire practical knowledge and experience about Japanese companies.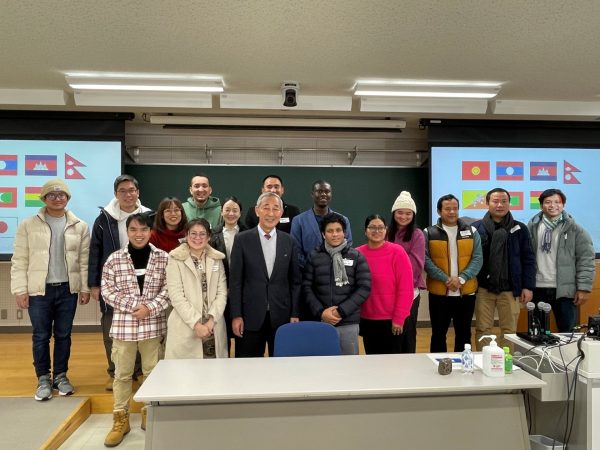 The participants are students in Japan but are government agency and private company employees in their home countries and have a strong interest in Japanese-style management.
In addition to research held daily on campus, this program is designed to include visits to Japanese companies where participants have the opportunity to have direct interactions. The goal of teaching the participants elements typical to Japanese management such as business philosophy, business continuity, the '5S', 'Kaizen', strategies for overseas expansion, etc., is to enable participants to use what they learn as reference for future research or work after returning to their home countries.
This program was conducted by gathering students in a lecture room at Ritsumeikan University and was conducted under the two methods of face-to-face lectures with instructors, and remote lectures using Zoom.
It was a pity that in-person site visits to companies weren't possible again this year, but the heated debates and enthusiastic questions made showed it to be a successful program.
Ritsumeikan University Graduate School of International Relations Business Management Program
★Date: January 25th to January 26th
★Participants: 18 students taking 'professional training' at the Graduate School of International Relations, Ritsumeikan University
★Participating countries: Cambodia, Laos, Kyrgyzstan, Nepal, Bhutan, Vietnam, Ghana, Maldives
★Commissioned by: Office of the College of International Relations, Ritsumeikan University
★Instructors/Site Visits (honorific titles omitted, in no particular order)
[Lecturer] Mr. Yoshihiro Arioka, GEEMS Associates Corporation
[Site Visits]
OMRON KYOTO TAIYO Co., Ltd.
NABEL
(Supervisors: Ozaki, Yamaguchi -Posted on April 21, 2023)
*For inquiries regarding this program, please contact via the email address below.
prexhrd-pr@prex-hrd.or.jp