Master's Program in Graduate School of International Relations, Ritsumeikan University Kyoto City Government Study Program
This program was established in response to the many requests from international students, who were mostly government officials, to learn about the real front-line state of government. It used to be operated directly by university graduate office utilizing the city's public seminar system up until 2 years ago, but PREX has been entrusted with running it as of last year.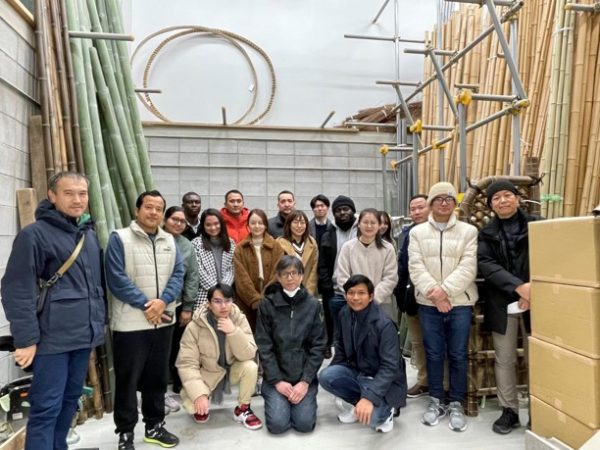 This year, the following new content has been added.
(1) Studying Japanese Culture
A new addition to the lecture by the Historical Road Promotion Council on the history and culture behind modern Japan was a visit to Ryoan-ji Temple.
(2) Visit to Experiential Disaster Education Facility
For specific examples of Kyoto City's disaster prevention measures, a visit to the 'Kyoto City Disaster Prevention Center', an experiential disaster prevention education facility, was added to the program.
(3) Case studies of business development that developed traditional industries
As a specific example of industrial promotion and business start-up support measures, Hiyoshiya methods used by Takemata Nakagawa Takezaiten was introduced as a case study of business expansion. This bamboo store where they made Kyoto's traditional Japanese bamboo umbrellas, expanded to also making lampshades, and to handling Japanese materials (Japanese materials and design) thanks to Hiyoshiya methods used. To learn about this participants visited the Takemata Nakagawa Takezaiten (bamboo craft workshop) and Kyoto Amplitude (showroom).
We received feedback from international students saying that "It was a very well organized and useful program."
Master's Program in Graduate School of International Relations, Ritsumeikan University Kyoto City Government Study Program
★Schedule: January 31st to February 2nd, 2023 *Training acceptance period
★Participants: International students enrolled in the Master's Program in Graduate School of International Relations, Ritsumeikan University
(Central government or government officials in charge of local government, etc.)

★Participating countries: Cambodia, Laos, Kyrgyzstan, Nepal, Bhutan, Vietnam, Ghana, Maldives
★Commissioned by: Office of the College of International Relations, Ritsumeikan University
★Instructors and site visits (in no particular order)
[Site Visits]
-Kyoto City Administration and Finance Bureau, Environment Policy Bureau, Industry and Tourism Bureau
Rekishi Kaido Promotional Council
Kyoto City Disaster Prevention Center
TAKEMATA NAKAGAWA TAKEZAITEN
HIYOSHIYA
Architects, Regional Planners & Associates, Kyoto
(Supervisors: Ozaki, Yamaguchi -Posted on April 21, 2023)
*For inquiries regarding this training, please contact via the email address below.
prexhrd-pr@prex-hrd.or.jp