JICA Financial Access for Small and Medium Enterprises(SMEs) promotion July 8 – August 10, 2019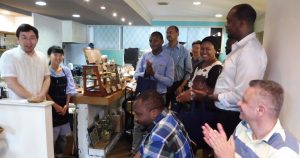 Visiting various places and meet many experts
What is this course for?
This program is targeting for the officers which are providing various supports to SMEs e. g. central /local government, financial institution, etc. And purpose of this program is to strengthen the capacity of those officers to provide supports to SMEs, to understand the effective measures for facilitation financial access for SMEs, and to make an action plan to improve the situation in their home countries in the field of SME Promotion.
Why involvement of public sector is needed?
There are so many problems in the environments surrounding SMEs. For example, the difficulties of borrowing the fund from financial institutions, lack of capacities to correspond administrative procedures and so on. In this circumstances, involvement public sector is required to solve these issues. SMEs management resources are very limited, so it's difficult to solve their problems with only own efforts. Therefore, development of public and private support center and financial institutions are the important key to develop SMEs activities.   
  What participants experienced during this course?
Participants learn theory and practical measure of SME promotion, focusing on financial supports, meet Japanese experts of SME support organizations and entrepreneurs to get first-hand experience such as METI, which makes national SMEs support policies, governmental organizations, local government, financial institutions and chamber of commerce which take actions. Furthermore, we visit SMEs which run and expand their businesses with national supports to know realities of cooperative activities.
Then, participants get hints and ideas for making action plan to solve issues related to financial access.
(Shimada, International Department, PREX)
Financial Access for Small and Medium Enterprises(SMEs) promotion
★Date: July 8 – August 10, 2019
★Participants: Middle class managers of central/local government, financial institution etc who is providing support to SMEs
★Countries: Albania, Myanmar, Nigeria, Sudan, Tanzania, Vietnam, Zambia
★Course Leader: Prof. Koji HAYASHI, Osaka University of Commerce
★Contents: 
Expected Module Output
1) Identify the issues of SMEs development policies and measures of their counties.
2)Explain the outline of SMESs development measures, especially in the area of financial access
3)Clarify what is needed for SMEs to improve financial access in their home counties by grasping key factors in support for SMEs through case studies of Japan and other countries.
4)Tentative action plan to improve financial access for SMEs is formulated
Places visited to deepen understanding to achive each Expected Module Output
○CRD Business Support Ltd.
○The small and Medium enterprise Agency, Ministry of Economy & Industry(METI)
○Tokyo Metropolitan Small & Medium Enterprises support center
○Japan Financial Corporation (JFC)
○Organization for Small & Medium Enterprise and Regional Innovation, JAPAN(SME Support JAPAN)
○Hyogo prefecture Government
○Tarumasa Honten
○Himeji Shinkin Bank
○Kobe Industrial Promotion foundation
○Y's coffee Roaster & Baked Shop
○ENPORT CO.,Ltd.,
○Monozukuri Business Venter Osaka(MOBIO)
○Saito Lighting Co.,Ltd.
○Hyogo Credit Guarantee Corporation
○Kansai SMEs Training Institute
○Osaka Small & Medium Business Investment & Consultation Co.,Ltd.
Please send e-mail if you haven any inquiry.
prexhrd-pr@prex-hrd.or.jp