JDS Online Course: JDS value-added training program Kobe Ver. (28th March, 2022)
Online learning with Ghanaian and Nepalese students studying in Japan.(Kobe Ver.)
                                               Presentation from participant
 Course Outline
★Date: 28th March, 2022
★Participants: 8 Ghanaian students and 12 Nepalese students studying for Master degree by participating "The Project for Human Resource Development Scholarship Program "(*)
* JDS Program: 
The Project for Human Resource Development Scholarship (JDS) supports human resource development by providing young leaders from target countries with full scholarships for graduate degrees in top Japanese Universities.
JDS fellows are expected to contribute to the socio-economic development of their country, by actively engaging in policy formulation and implementation of social and economic development policies when they complete the program and return to their home country.
Through the JDS program, young leaders are also able to understand the Japanese society, learn about common interests and work towards common goals. The JDS program creates a system where academic exchanges, which include immersion and exposure to various fields, become a tool for strengthening international relations.
(c) from website of Japan International Cooperation Agency 
★This course was entrusted by Japan Development Service Co., Ltd.
Purpose of this course
This program is aiming  to encourage participants to  understand how Japanese players tackling with the environmental issues ex. decarbonization.  
Mainly two topics were introducing in this program. 
One is public sector's role in the field of establishing and implementing the public policy. 
And another is private enterprise's  activities to contribute to energy innovation for society.
Based on learning in this program, participants are expected to draw Action Plan for their country on these topics.
Lectures and places which were introduced in this course (Alphabetical order)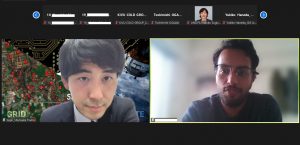 City of Kobe
Kivu Cold Group
Sagri Co., Ltd
UNOPS S3i Innovation Center
by Ogawa, Maeda, Kojima and Taketani of International Department. 
Please send e-mail if you have any inquiry
prexhrd-pr@prex-hrd.or.jp