Japanese-style 5S and Occupational safety for wood worker in Binh Phuoc Province, Vietnam/ August23-25, 2019
What is 5S and Occupational Safety?
      We conduct 3 days seminar with Yoshino town(Nara Prefecture) in Binh Phuoc Province, Vietnam, which is located near Cambodia. And it takes about 3 hours from Ho chi minh city by car.
     Many people are working in wood industry in Binh Phuoc Province and there are many factories to process wood, but the skill is not so high and education of occupational safety is not enough. Then, Yoshino town will support capacity development in wood industry because wood industry is also main industry in Yoshino town.
   This seminar was focused on 5S and Occupational Safety, which are base of Monozukuri, for leaders of worker in wood processed company in Binh Phuoc Province.
Lectures are the school teachers who has trained by Japanese Project
     The lecturers were two Vietnamese teachers who are developed their teaching skill through Dong Nai project (The project to develop MONOZUKURI human resources in Dong Nai province,Vietnam)which PREX has been conducted since 2014. (2014-2016 supported by JICA, 2017 supported  by Kansai Bureau of Economy, Trade and Industy and AOTS)
   Interactive and lively sessions
     The two teachers taught this topic with the optimal combination between interactive lecture and experience-based workshops.  Also, contents was adjusted and fit the situation of wood processed company.  Those adjustment enable participants to understand the contents connecting their own experience. The participants enjoyed and learned practically.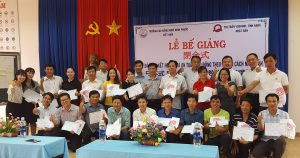 Happy Closing Ceremony
     In the lecture, there were some group works. One of them was to find Kaizen points in their factory, think how they solve the problem and improve them, make before-and-after sheet and make presentation about each groups idea about Kaizen in their factory. . We hope that this short seminar stimulates them and they improve their factory to work safely and productively.
(Kobayashi, International Department, PREX)
Japanese-style 5S and Occupational safety for wood worker in Binh Phuoc Province, Vietnam
★Date: August23-25, 2019
★Participants: leaders of worker in wood processed company and teacher in Binh Phuoc Province
★Countries: Vietnam
★Contents
    ・lecture about 5S, exercise with lego
 ・lecture about safety, exercise of KYT
 ・Factory tour and exercise of making before after sheet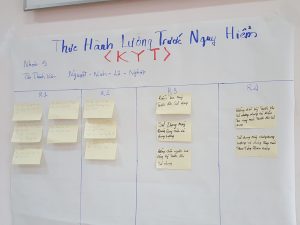 Please send e-mail if you haven any inquiry.
prexhrd-pr@prex-hrd.or.jp