Japanese small and medium-sized enterprises seen by participants
Three new staff members of PREX interviewed participants who attended the "JICA Financial and Technical Support for Small and Medium Enterprises Promotion (A)" and "JICA Mongolia-Japan Center Visitation Training: Japanese-style Management Based on 5S" courses.
Corrientes City Hall Argentina
Mr. ZARRABEITIA Cesar Tomas
Touched by strong and long-lasting small and medium-sized enterprises
During this training period, I was most impressed by the visits to companies – most of all, to Tarumasa Co., Ltd. Although their business plunged into crisis when their newly-built factory was devastated by the Great Hanshin Earthquake, they recovered by developing new products with the active use of government grants. This is a 100-year-old, long-established business that values traditional aspects with the philosophy of "incorporating traditions into today's world." I was touched and felt this strong company would continue to exist for a long time.
Ministry of Finance, Mongolia
Ms. SHARAVDORJ Khulan
In a small and medium-sized enterprise, employees work as one team
I thought it was wonderful that each and every employee was working earnestly in small and medium-sized enterprises in Japan. Through my visits to companies, I felt that all employees, not just people in management, had the company's wellbeing in mind and were working with a strong sense of motivation and responsibility. I was impressed with the way each and every employee brought ideas and shared information. I also felt that people communicated with each other with respect and kindness, which is a wonderful aspect of Japan.
Comment by Kobayashi:
"I heard many companies in Argentina and Mongolia face challenges in aspects of financing and the development of competitive products."
Ministry of Economic Development, Tourism, Trade and Entrepreneurship 
Albania


Ms. XHELI Ermonela
MOBIO supports small and medium-sized enterprises with face-to-face communication
I heard very helpful stories at all of the organizations I visited, such as corporations, groups, and government institutions. One of the organizations I was most impressed with was MOBIO (Monozukuri Business Information Center Osaka). Their efforts, especially MOBIO-CAFÉ, are easy to introduce and very beneficial. I like how the organization not only supports small and medium-sized enterprises to sell products, but also creates opportunities for them to meet people from various industries.
Comment by Kameda:
"One of the challenges that participants' countries face in supporting small and medium-sized enterprises is a lack of communication between companies and government institutions. Many programs that we introduced about supporting small and medium-sized enterprises in Japan focused on the issue of communication. MOBIO's efforts especially received earnest attention from participants, because the organization provides a place for company people to physically visit, which helps resolve the issue of lack of communication between companies and government bodies."
Executive Managing Director
Khugjil Trade Co.,Ltd (a company of daily goods)
Mongolia


Ms. RAGCHAA Otgontsetseg
I would like "management philosophy' to prevail in my company
Before I came to Japan, I had been wondering why Mongolian companies were not producing world-renowned management models like some Japanese companies. During the three weeks in which I attended lectures and visited companies in Japan, I came to realize the true problem that Mongolian companies face. It is that management philosophy is not adequately known by employees, who in turn do not recognize the significance of their work. In many of the Japanese companies I visited, employees, as well as the presidents, highly valued their company philosophy, which positively influenced employees' attitudes towards their work. I felt strongly motivated to increase the penetration of our company philosophy – providing customers with heartfelt products – within the whole company once I returned to Mongolia. I will work hard so our company can be a Mongolian-born role model of good management.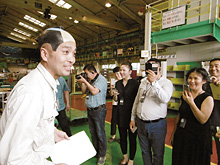 Management that links kaizen and human resource development
Although my company has been conducting 5S activities for several years, it is still a challenge to stabilize and continue it in the long term. My visit to Tanaka Tec Co., Ltd. was very helpful for me as reference in conducting kaizen activities continuously. In Tanaka Tec, kaizen and human resource development were closely linked. Their employees understood the purpose of kaizen, and demonstrated individual initiative. I was especially impressed with how kaizen was an everyday custom, as they thoroughly and consistently practiced 3S (seiri: being organized, seiton: keeping things in order, and seiso: cleaning). I would like to make a similar system in my company, beginning with the consistent implementation of 3S, in which employees are aware of our objectives and practice kaizen actively.
Comment by Fujita:
"The participants who had studied Japanese-style management at the Mongolia-Japan Center for five months had already been putting forth efforts in quality management and kaizen activities in their home countries before coming to Japan. However, their issue was that their efforts were not leading to fulfilling customers' needs. Through this training program, they engaged in active discussions with Japanese business executives to absorb management know-how and leadership knowledge for the improvement of their own management ways."


New employees, from left: Kobayashi, Kameda, and Fujita, all of whom started in April
Please send e-mail if you haven any inquiry.
prexhrd-pr@prex-hrd.or.jp