I would like to expand the circle of kaizen in Ukraine (April 2018)

(Left) Ukrainian Counterpart—Ms. KASHCHUNA Larysa, Vinnytsia Chamber of Commerce and Industry
(Right) At "Kaizen Instructor Development Seminar for Energy Saving in the Manufacturing Industry", participants used Lego blocks for an exercise.
The Voice of the Counterpart—It Is Vital for Ukraine's Future.
When I participated in Practical Business Training (D) in 2016 and saw Japanese craftsmanship, I strongly thought, "Applying this idea will enable Ukrainian enterprises to improve more", wondering how I could convey the benefit of this idea to them.
Finally, my wish has been granted, and the seminar was held, inviting Prof. Kentaro Minagawa to Ukraine.
While I thought that that was a great opportunity for enterprises in Vinnytsia, I was worried if enough participants would come to the seminar.
However, when I informed the corporate members of the seminar, we had a massive response. Actually, we had inquiries even from other regions.
We planned the program for the last half of the seminar, including the visits to the participant enterprises' factories to think about how to conduct kaizen by observing actual sites.
It has been the first time to apply this approach for the Chamber of Commerce and Industry, and it was hard to find enterprises which allow participants to visit.
After lots of rejections by other enterprises, being told that their factories are not good enough to be visited, we finally managed to obtain the cooperation of a fruit processor and a manufacturer of animal husbandry equipment.
I felt their will to improve their enterprises. I was very thankful to them and was reminded of the importance of our roles.
Ms. KASHCHUNA Larysa, Vinnytsia Chamber of Commerce and Industry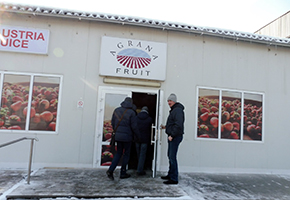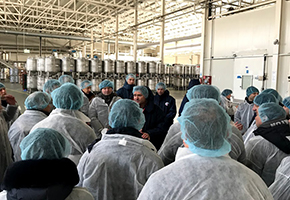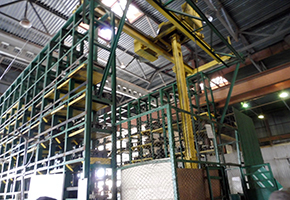 One of the factory visits—AGRANA Fruits factory in Ukraine
Instructions at the product warehouse of AGRANA Fruits
Inside the Bratslav Group factory—a manufacturer of animal husbandry equipment and facilities
Seminar Report—Everything Is the First Experience for Business Owners
I am Meiji, who was in charge of this seminar.
We had a seminar in which local manufacturers could learn the idea of Japanese kaizen in Vinnytsia in the west of Ukraine for four days from February 24 to 27.
Participants were in the position to promote kaizen in enterprises in Ukraine, and Professor Kentaro Minagawa from Osaka Institute of Technology provided a lecture and exercise.
Forty participants learned the principle of kaizen through the lecture, exercise and factory visit.
At the planning stage, the lecture was supposed to be with twelve participants; however, we had more applicants than we had expected and expanded to forty participants.
In the end we had approximately eighty applicants.
Everyone eagerly attended the seminar and evaluated it highly, saying, "We could learn the idea of Japanese craftsmanship" and "We could have a new viewpoint which helps improve our company."
This program was jointly hosted by Vinnytsia Chamber of Commerce and Industry and PREX with the cooperation of the Ministry of Economic Development and Trade of Ukraine and Kaizen Club in Ukraine, applying AOTS's Carbon Reduction Technology Promotion Human Resources Development Program.
Meiji, International Department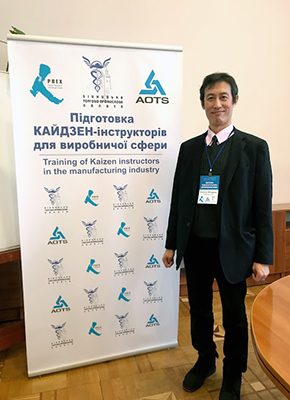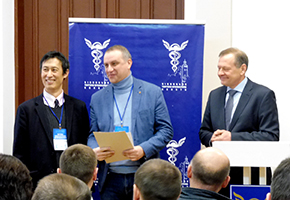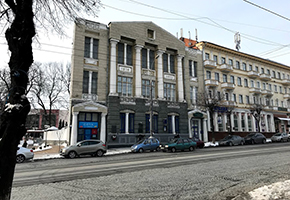 Professor Kentaro Minagawa, Osaka Institute of Technology
A participant receiving a certificate
Chamber of Commerce and Industry, the venue of the seminar
Please send e-mail if you haven any inquiry.
prexhrd-pr@prex-hrd.or.jp