Fiscal Year 2022: Professional Traning : Ayabe Field Study Tour, Ritsumeikan University Graduate School of International Relations (November 2022)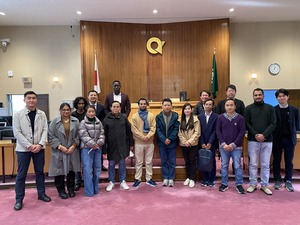 [at Ayabe City Assembly Hall]
This training program is a continuation from last year.
In October, Coronavirus prevention restrictions for entry to Japan were eased, however, word was getting around that the eight wave of the infection was at hand. Under such circumstances, 2 buses were used to ensure physical distance was kept while transporting the 14 overseas students for the program.
Assembly was at Ritumeikan University's Kinugasa Campus, and after it was confirmed everyone was present, buses departed at 9:30. The party arrived at Ayabe City Office after 11am.
A courtesy call was made to Ayabe City Mayor, Mr. Yamazaki.
Mayor Yamazaki, formerly of the Japan Development Bank, gave an approximately one-hour lecture in fluent English on the outline of Ayabe City its challenges and how it is tackling them, using a recently produced film.
A number of the students were particularly interested on how the city is tackling its declining population crisis and asked many questions on the topic. As a result, the program ran a little over the scheduled time ending the morning curriculum.
Lunch was supposed to be in one of Ayabe's most famous spots, 'Ayabe Rose Garden (in Ayabe Gunze Square), however, the time allowed for lunch was short, so many of the students had their lunch in the eat-in section of a convenience store.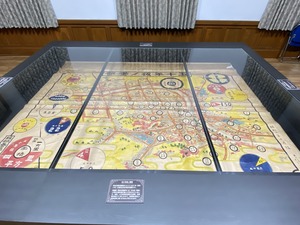 [Map of 50 years in the future (Gunze Memorial Hall)]
After everyone had finished lunch, we reassembled at the Gunze Museum.
Here, only once a week on Fridays, the Gunze Memorial Hall is open with a guide. We were able to hear a lot about the background of the Meiji era, the Gunze founder's philosophy and the company's course to date.
When asked, "How long a thread can you get from one cocoon?" everyone answered 20m?, 50m? However, everyone was amazed when they heard the correct answer is 1,000m. For the last item on the curriculum, making Japanese washi paper, everyone rode the bus again to Kurotani Washi Kaikan.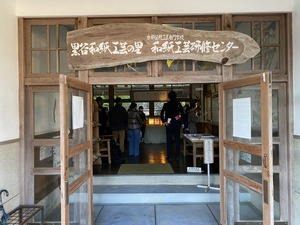 [Kurotani Washi Kogei no Sato]
Here the party was divided into two groups to see the process of how handmade washi paper is made from the plant Broussonetia kazinoki and to actually make it.
Each member made a set of 8 washi postcards on a filter tray. The washi was pressed and dried and scheduled to be sent to the university by post.
The tour was scheduled to return to the university campus at about 7:30pm. The 3 programs for one day was a pretty hard schedule for the overseas students. However, they showed no sign of fatigue and everyone said thank you and dispersed with a smile.
We hope this will be a memorable training program for everyone.
Fiscal Year 2022 Ayabe Field Study Tour, Ritsumeikan University Graduate School of International Relations
Date: (Friday) November 18, 2022 *Training entry period
No. of participants: 14 overseas students
Participating countries: Ghana, Cambodia, Kyrgyzstan, Nepal, Bhutan, Maldives, Laos (7 countries)
Course leader: Prof. WATANABE, Lecturer TANAKA, Ritsumeikan University College of International Relations
Entruster: Ritsumeikan University Graduate School of International Relations
Lecturers/visiting sites (titles omitted random order)

Lecturer: Ayabe City Office Zenya YAMAZAKI City Mayor

Visiting sites:
Gunze Memorial Hall, Gunze Museum
Kurotani Washi Kogei no Sato

(HAZAMA, TANAKA, Posted on December 5, 2022)

For inquiries regarding this training course, please contact below.

prexhrd-pr@prex-hrd.or.jp