Contributing to drawing up regulations and standards to improve the air environment in Xi'an City(2008-2010 & 2012-2014)
As part of a friendship exchange between Kyoto and Xian cities, cooperation programs to improve the air environment of Xian City were implemented from fiscal 2008 to 2010 and then from 2012 to 2014. They were adopted after Kyoto City and PREX proposed them to JICA as a JICA grassroots cooperation program (a kind of regional proposal).
During the first three years from fiscal 2008, efforts were made on total improvements to the air environment. In the three years from 2012, the theme was measures to deal with floating particulate matter, which has been viewed as a problem particularly in the last few years. Blue skies over Xian City were rarely seen around 2008. Yet we got a true taste of the efforts' results after being able to see blue skies on numerous occasions during a visit to the area in fiscal 2014.
A Summary of 3 Years
1.Program summary
Cooperation on air environment improvement of Xian City came mainly through Kyoto City's Environmental Policy Bureau and was implemented for a total of six years. In Xi'an City, there had been concerns over the worsening air environment. A feature of the city is that floating particulate matter stops moving when the wind isn't blowing, as the city is located inland in a basin.
Also, the coal and kerosene used for fuel are not of a good quality, while the number of private cars has been rising steeply at a rate of around 25 percent annually during these three years. While it was implementing various countermeasures, the Xi'an City government made a request to Kyoto City for cooperation, saying it wanted to learn about more effective cases.
In terms of concrete activities, seminars were held in Japan three times for approximately two weeks each and specialists were dispatched three times, staying for around a week each trip. The seminars were for government administrators involved in air environment improvement from Xi'an City's environmental protection bureau and other offices. They were mainly introduced to Kyoto City's policies and initiatives. During the dispatch of specialists, seminars were held and Kyoto's experiences were conveyed. The specialists grasped the local situation and confirmed the seminars' effectiveness.
2.The program's successful results
It was confirmed that Xi'an City created the following plans and standards, reflecting the successful results learned in Kyoto:
"The 13th Term of the 5-year Xi'an City Environmental Conservation Plan" (a 5-year period from Jan. 1, 2016);
"Emission Standards for Coal Boilers" (2013);
"Plan to Implement the 'Pollution Control and Smog Reduction' Initiative" (every year from 2013)
"The Ordinance to Control Automobile Exhaust Emissions in Xi'an City" (2015);
"Plan on Regional Standards for Measurements Using Telemeters" (2014);
"Plan on Initiatives Related to Overall Improvements in Xi'an City's Environmental Air Quality" (2012-2020).
Point 1) covered the use of clean coal that participants learned about in the Japan seminars, conversion away from coal toward gas, and incorporating into urban plans things that create wind currents and increase the amount of greenery.
Point 2) appeared to involve strict content, based on what was learned at the Japan seminars concerning strict content that has been established and tackled in Japan.
Points 3, 4 and 6 concerned Japan's air pollution control measures learned during the seminars in Japan, for example, incorporating the forced exclusion of cars that exceeded the standards.
Points 5) Measuring emissions from each and every car in operation is not done in Xian City, although, officials have decided to establish this practice after finding out that Japan implements it.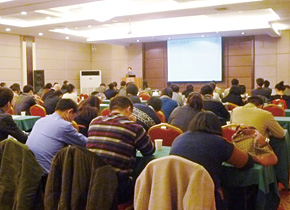 3.Holding a seminar in Xi'an City that spread successful results
Sixty-nine government administrators, corporate officials and others participated in a general seminar held in Xi'an City on Nov. 14, 2014, where the successes from projects were shared. On the day, representatives from JICA, Kyoto City and Xi'an City greeted the participants.
Efforts to deal with the situation of Xi'an City's air environment — and countermeasures for it — and the achievements learned from Kyoto City were shared by the seminar participants who had been in Japan.
Staff members of Kyoto City government also gave a lecture on measures and policies to reduce the amount of floating particulate matter that make up Kyoto City's air pollution. Measures taken by Xi'an City to improve its air environment will continue to be implemented after this project ends. We expect to have more days when blue skis appear over Xi'an City, as it utilizes the achievements that were taught in Kyoto.
(Akiko Sakai, International Department)
Please send e-mail if you haven any inquiry.
prexhrd-pr@prex-hrd.or.jp