8 high officials from Tanzania observe agricultural and other businesses in Kansai-June 16 to 27, 2014
PREX is holding the country-focused Training "Rural Agricultural Development for Tanzania" from this fiscal year for five years. In the seminar for the first year, which ran from June 16 to 27, eight high-Ranking officials involved in the planning of agricultural development policy came to Japan. They visited agricultural processing companies the Kansai region and observed cases of efforts of how they promote agricultural development through collaboration of Agriculture-commerce-industry sectors in order to create value added products.
Development projects in Tanzania's agricultural sector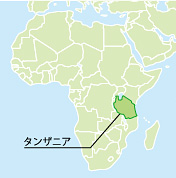 Approximately 80 percent of Tanzania's population is engaged in farming, with many of them in poverty. Tanzania's government regards agricultural development as important issue, being one of its national development strategies for economic growth and poverty alleviation. Under a decentralization policy and within an agricultural sector development program, the government is aiming to promote food security, agricultural commercialization, raising farmers' incomes, and improving the environment for regulations, policies and other areas to promote private sector's investment. Concrete efforts continue to be carried out to promote agricultural development at the regional level.
Given this background, there are firstly requests to deepen understanding with respect to high-ranking government officials involved in policymaking and the roles that governments (central and regional) should be undertaken, the specific policies and regulations that should be set forth and the desired role-sharing with the private sector.
A visit to Katashimo Wine Foods Co. The participants visited vineyards under the personal guidance of company president Takai, who also talked about regional development in the area.
Visiting agri-business sites in kansai
During this seminar, the participants spoke directly with people involved in administration and business promotion about the history of regional prosperity and revitalization in Japan's agricultural policies, their current activities, and laws related to agriculture and financial policies. In addition, they visited some small and middium scaled companies doing agri-business.
In Tokyo, they visited central government offices and financial institution and attended lectures by a professor experts, before moving on to Kansai. Then they attended lectures from administrative organizations and local governments in Kansai about agricultural promotion policies at regional level and policy promotion efforts that attempt to add value to secondary and tertiary industries.
Furthermore,Tanzanian Participant heard explanations from several companies that have contributed to rural in Japan development and agricutural industrialization, and have expanded agri-business in Africa about their specific strategies and activities and the like. The participants exchanged opinions and came up with different ideas that would be effective for rural agricultural development in Tanzania.
S. Asanuma,Y. Sakaguchi, International Department
Seminar summary
| | |
| --- | --- |
| Name | Country-focused Training "Rural Agricultural Development for Tanzania" |
| Period | June 16 (Mon.) to June 27 (Fri.), 2014 |
| Participants | 8 high-ranking government officials related to agricultural sector from Tanzania |
| Commissioned by | JICA Kansai |