【PREX, JAPAN Video Letter】Mr. Wada, Tokusyu Kousyo Gijutsu, Inc. "Lets make Ninjya tech as world standard" Dec 25, 2019-
PREX

Island
Enterprise managers

Working style


【PREX, JAPAN Video Letter】 Mr. Wada, Tokusyu Kousyo Gijutsu, Inc.
Passing Ninja Tech on to the World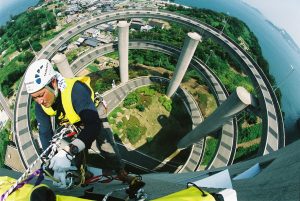 My name is Seiji Wada and I am the Representative Director of Tokusyu Kousyo Gijutsu, Inc.
Although I was originally born into a family that owns a construction firm that specializes in constructing shrines and temples, I established this company in 2007. By witnessing the techniques used by rock climbers to suspend themselves in high places using ropes at worksites to perform geological surveys, I came to the realization that "these techniques could be utilized for performing surveys and repairs in high places, such as on highways and bridges."
One-and-a-half months after establishing this company, a bridge on the Mississippi River in the state of Minnesota in the United States of America collapsed, thereby resulting in numerous deaths and causing many people to go missing. As a result, the need for infrastructure maintenance also started to gain recognition within Japan, and the demand for such technologies is currently rising both domestically and overseas.
Make this technique as world standard
    In 2016, a highway construction company in Morocco requested the Hanshin Expressway Company to arrange for a Japanese highway construction company to provide them with technological assistance. After witnessing a demonstration of the "Ninja Tech specialized techniques for use in high places" during their visit to Japan, negotiations proceeded smoothly, and it was decided that our company would be providing them with assistance for human resource development in Morocco.
    In addition to our physical bodies, as long as we are equipped with the right tools and technical skills, we are able to perform inspections and to conduct repairs in close proximity of dam walls and bridges. In some countries across the world, there are cases where specialized heavy machinery to perform such inspections is unavailable.
    In such countries, maintenance work most often goes neglected. Since we are a small company, the scope of our operations is limited to only a portion of the world. With that said, however, we continue in our efforts with the hope of making even the smallest impact in reducing the number of social infrastructure accidents that occur across the world.
Dec 25, 2019
Date : December 25, 2019
Name : Mr. Wada
job name : Representative Director
関連記事