The Importance of Regular Exchanges of Information(No2)-
PREX

Island
Ex-participants


The Importance of Regular Exchanges of Information(No2)

Until September 2010, the number of people who had participated in seminars held in Japan run by PREX totaled around 4,200. PREX has been keeping touch with participants after they return home through such means as exchange of information at meetings of Alumni Associations and individual contacts with PREX staff. However, in fiscal 2010, for the first time, a "seasonal greetings email" was sent to former participants who had visited Japan in the past, mainly for seminars in fiscal 2009 and 2010.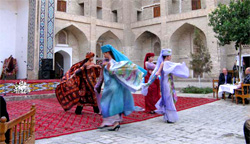 This photo arrived from Ms. Savchenko Yulia, who participated in the Practical Training of Business Course (Uzbekistan-Japan Center) in fiscal 2010. It shows a local traditional dance. It can be observed while dining at the Medressa (an Islamic school) that is open to tourists. The brightly colored clothing certainly is impressive!
Replies to our greeting cards from PREX seminar participants who have returned home
"Is everyone healthy and happy? We are experiencing a hot summer in Japan…We will send pictures of memories of the Japanese summer, fireworks and the Gion Festival in Kyoto. Please give us an update on your current situations and activities since you've returned home."
After PREX sent out this kind of email, we got a huge response, with many former participants sending back replies. Here we introduce just a few of them.
From Mr. Wang Feng
Southern Water Purification Plant, Xi'an City, China

Attended the Xi'an Water Environment Improvement Project, Second Course, Fiscal 2006
I was glad to receive your email. The seminar in Japan was a lot of fun, an unforgettable experience. One thing that sticks in mind is when another participant and I suffered a skin allergy. We were taken to a hospital, and everyone was so acutely concerned. I would like to express my thanks again for the care I received. The summer this year in Xi'an is extremely hot, like Osaka's, and the high temperature reached 40 degrees. The ground temperature in the center of Xi'an (where the bell tower is located) apparently hit 50 degrees. In a usual day in Xi'an in summer, the maximum amount of water supply is 1.09 million tons, and this continues only for a day or two. This year, it has continued for three weeks, exceeding one million tons. During two of those three weeks, the amount reached approximately 1.1 million tons each day.
With the ongoing cooperation of Kyoto city, the Xi'an Seminar will be held as a JICA grassroots cooperation project. We look forward to further improvements in the Xi'an's waterworks and sewerage systems.
PREX feels the necessity of keeping in regular contact in order to maintain links with former participants now back in their own countries. PREX plans to continue sending the emails offering seasonal greetings.
Satomi OKUMURA
Course Planner, International Department
Date : March 24, 2011
Name : Mr. Wang Feng
Seminar : Attended the Xi'an Water Environment Improvement Project, Second Course, Fiscal 2006