Bangladesh, Established the Information and Exhibition Center for SME. (Oct. 2012)-
PREX

Island
Ex-participants


Bangladesh, Established the Information and Exhibition Center for SME. (Oct. 2012)

Program Officer, Small & Medium Enterprise Promotion Foundation
Mr. Fahim Bin ASMAT
Attended the FY 2010 JICA Financial and Technological Support for Small and Medium Enterprises Promotion (A)

Mr. Asmat, who attended a JICA seminar in 2010, is the program officer for Bangladesh's Small & Medium Enterprise Promotion Foundation. We visited Bangladesh in February 2012 as part of a follow-up activity for PREX seminar participants who have returned home, and later were able to learn about his activities.

Ever since the establishment in 2006 of the Small & Medium Enterprise Promotion Foundation, to which Mr. Asmat belongs, the organization has developed activities with the aim of fostering and promoting SMEs. It provides various services, including setting up help desks and offering diverse types of information. In September 2011, the Information and Display Center was established at the foundation. Targeting small enterprises, it was set up to deal with advertising and gathering market information, which are especially tough problems for such businesses, and as a display space for products and to offer marketing information. Approximately 500 items from 58 entrepreneurs have been on display, and now, six months since its establishment, it handles enquiries and consultations for 10 to 15 companies a day. Mr. Asmat makes effective use of such functions at the center, and he spoke passionately about wanting to invigorate local businesses.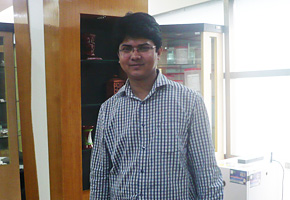 (Fumiko Sekino, International Department)
Date : October 30, 2012
Name : Mr. Fahim Bin ASMAT
Seminar : Attended the FY 2010 JICA Financial and Technological Support for Small and Medium Enterprises Promotion (A)
job name : Program Officer