Ghana, Most participants take action-
PREX

Island
PREX Members

Working style


Ghana, Most participants take action

PREX maintains its relationship with seminar participants even after they return home. This is done through information sent by email, the use of Facebook, and, as needed, seminar follow-up. The JICA "Ghana industry promotion" seminar was held in April 2013, and this time we were able to hear from the 12 participants who had returned home about the progress of action plans. The participants in this seminar were division managers at a public body in a position to support small-to-medium manufacturing businesses. They had visited support organizations for small-to-medium businesses and SMEs themselves, and formulated a one-year action plan that took support for enhanced productivity as its theme.
Most participants take action
Some progress reports on action plans following return to the home country cited the obstacles of budget insufficiency and lack of support from organizations. However, most former participants were engaged in some kind of action. Below is an example progress report. I recall those 12 when they were still participants. They asked questions in lectures and at visits that cut to the core. In the final stages of the seminar, they were highly motivated to take action upon their return home. On receiving the participants' reports, course leader Koji Sugimura, who had led the seminar in Japan, responded with words of encouragement fitting the situation of each participant, which were delivered to all the participants through JICA Kansai. To those participants who hadn't progressed as expected, he wrote, "Effort is required that gets you through difficulties. Don't give up for a moment, but create achievements from small things, and involve yourself in what's around you." My feeling is that these words were a great encouragement.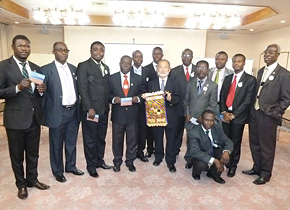 Stay tuned to activities, and encourage
Seminar participants set goals and drew up action plans while in Japan. "Get participants to send a report and photographs by email, with the timing for this being about half a year or a year after their return home. The lecturer then sends a message in reply urging the participant to look back over the results of the activities to date and to press on with the next course of action, such as plan revision. After a while, repeat this exchange." Such support ties in with creating an ongoing relationship with the former participant. At the same time, there are those who cooperated in the seminars: the lecturers and companies that hosted visits. They find it gratifying to receive feedback on activities following the participants' return home, thus deepening cooperative relations on the Japan side, as well. A participant—a leader among them—said to me on the last day of the seminar: "Sugawara-san, I'm definitely putting my plan into action, you know." In order to respond to sentiments like that, seminar work on the Japan side is never over. We need to continue to think about what should be done in terms of follow-up once the participants have returned home.


(Sugawara, International Department)
Action Plan of Mr. MANU BASHIR NBSSI, REGIONAL MANAGER FOR UPPER WEST REGION, GHANA
Enchancing Capital and Labour Productivity of Women Dominated Enterprises in the production of non Traditional export (NTE) products in the upper west region of Ghana, trough training and awareness creation.
Outcome
Capital and labour productivity of 80 women dominated mses in non traditional export products increased by 7% for year1, 14% for year 2 and 20% by the end of 2016.
Activities
Needs assessment undertaken on 80 NTE, MSE ・Individualized hands on coaching, knowledge and experience sharing on productivity management, Kaizen were undertaken for all the 8 heads of Business Advisory Centers(BACs) ・8 separate small business management workshop were undertaken by the BACs for MSEs.
Date : January 30, 2015
Name : Sugawara, International Department