Activities of seminar participants who have returned home-
PREX

Island
Ex-participants

Working style


Activities of seminar participants who have returned home

Seminar participants become involved in a variety of activities after they return home, utilizing what they learned in Japan. Here, we will introduce the activities of these participants.
The struggle to set up the Small and Medium-sized Enterprise Development Policies, Rwanda
Ms. KURADUSENGE Annoncee of the Ministry of International Trade and Industry, Rwanda (Industrial Department,; participated in PREX seminar in 2009) drafted policies in her action plan for after her return home. Once back, she went into action, for example by drafting policies in working groups and submitting them to relevant institutions. In the following year, when she drew up her action plan, we received information her draft had been passed in the national legislature.


Introducing things learned in the seminars
Ms. BEKTESHI Lorina of the Albania Investment Development Agency (head of the Export Promotion Sector; took part in PREX seminar in 2012) gathered together all of her government's policy implementation bodies to share the information she learned in Japan. (She is fourth from the right in the photo.)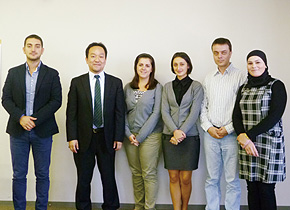 Publishing a book about the situation of Japan's SMEs
Mr. DRUCAROFF Sergio Alejandro, of the Argentine Industrial Association (SME Department; participated in PREX seminar in 2013) conducted a survey and analysis on Japan's SME promotion policies, after gaining support for a JICA follow-up project. He published a book on the possibilities of these measures being applied in Argentina. (He is second from the right.)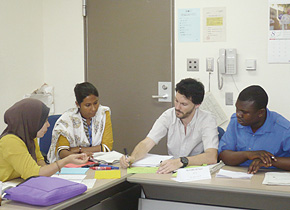 Holding seminars for SMEs
Ms. BYAMBAA Bayarlkham of Mongolia's Ministry of Finance (a specialist in financing for environmental two step loan projects; participated in PREX seminar in 2013) is regularly holding seminars that provide information on government funding for SMEs and application methods. (She is on the left in the photo left.)


Date : November 30, 2015
Name :