Toward Strengthening Ties with Ex-participants of Central America-
PREX

Island
PREX Members


Toward Strengthening Ties with Ex-participants of Central America

PREX has been systematically carrying out follow-up activities for participants who are back in their own countries and local needs surveys. For fiscal 2010, follow-up seminars were conducted for ex-participants of Central America, following similar activities for China and the Chongqing Alumni Association in May. Buichiro Murata, a professor at Nara Prefectural University, who led Regional Industrial Development by Public-Private Partnership for Central American and Caribbean Countries, went along on to Central America from Oct. 3 to 14, and a follow-up for seminar participants and surveys on their needs were carried out in Costa Rica and Nicaragua.
PREX-related Projects in Central America and the Follow-up
Until fiscal 2009, about 100 people from this region had visited Japan to take part in seminars. The seminar on "Capacity Development for the Trade Promotion Between Central America and Japan" got under way from fiscal 2006, and the "Regional Industrial Development by Public-Private Partnership for Central American and Caribbean Countries" started in fiscal 2007. The follow-up was the first time for PREX to visit Central America. A follow-up and a survey on needs were conducted to confirm whether the seminars are in line with the local situations and how PREX's seminars were helping vitalize local areas. Another theme of the latest surveys was on how to construct an effective network with seminar participants in the Central American region.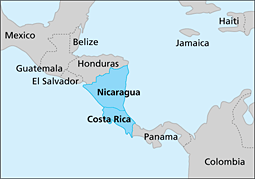 Countries Visited: Costa Rica and Nicaragua
Costa Rica and Nicaragua each have populations of around 5 million, and the countries' main industries are agriculture and livestock. Yet at the same time, huge disparities exist when comparing the scales of the two countries' economies. Nicaragua's GDP is a fifth of the size of Costa Rica's. Costa Rica abolished its military in 1949, and at least 6 percent of its GDP is put into its education budget, which is provided in the country's Constitution. Currently, major corporations, including Intel Corp., have come to Costa Rica, with the major reason for the advance said to be the ability to secure quality human resources. In Nicaragua, on the other hand, a civil war raged until the late 1980s, and political turmoil continues to this day. People's incomes and the literacy rate are low even by Central American standards. Approximately 70 percent of the population is at or below the poverty line.
Visiting Local Companies
During the recent trip, arranged by the former seminar participants, we were given the opportunity to observe government offices, companies, organizations and other sites. In Nicaragua, we went on a field trip to a dairy producer (CENTROLAC), established three years ago with Nicaraguan capital. Apparently, Nicaragua used to import powdered milk despite having a large number of domestic dairy producers. Thanks to the establishment of this company, consumers can now purchase domestically produced milk at low prices and the income of milk producers has more than doubled.
Many of the Central American participants told us, "Central America has all kinds of resources but can't put them to practical use." We felt that if the region's resources could be put to good use, then it would be possible to vastly improve the lives of the producers.
Activities of Ex-participants
Eight seminar participants who returned home to Costa Rica and 12 to Nicaragua took part in follow-up seminars and reunions. They explained their activities since returning to their countries.
Ms. Maria Isabel participated in the Regional Industrial Development by Public-Private Partnership for Central American and Caribbean Countries in fiscal 2008, and now is part of the Pacific Fruit Producers' Union of Costa Rica. She was contacted and told that Professor Murata would be visiting. On the day of the seminar, she was up at 4 a.m. and rushed out to meet him.
"I took part in the seminar and then my point of view and way of thinking changed. I feel like I've become a completely different person, " she said. She announced to us that since returning home, she has been involved creating systems to put revenue into regional areas, such as through diversifying products, developing new ones and using agricultural land efficiently.
Ms.Maria Isabel explains her activities since returning home.
A follow-up seminar in Costa Rica, which had 37 participants.
The Importance of Visiting Local Areas
PREX marked its 20th anniversary last year. One of its themes is future approaches on how to construct a network for seminar participants who have returned home and also how alumni associations should be vitalized. PREX activities have placed importance on person-to-person links. Yet regarding participants who have returned home, there have been few opportunities to visit local areas. Most of our dealings have involved exchanged of e-mail. Many of the former seminar participants who took part in the most recent follow-up seminars happily came from far away to see the instructors and PREX staff whom they were previously involved with. So we were again made aware of how important it is to see each other face-to-face. In the future, we would like to construct systems to increase the opportunities to make local visits and make efforts that would allow the participants now in their home countries to believe that PREX will always be close to them.
Date : October 14, 2010
Name : Kei KITAMURA Course Planner, International Department