Surveys on needs in Cambodia and Laos and following up-
PREX

Island
PREX Members


Surveys on needs in Cambodia and Laos and following up

PREX members visited Laos and Cambodia for the first time in four years. The purposes of the survey were to: 1) observe the situation and issues of the private sector, including local SMEs and organizations involved in SME promotion, and verify the issues; 2) follow up on seminar participants who have returned home; 3) hold public seminars to consider the importance of SMEs and the role of public policy; 4) build networks with local relevant organizations, and make sure these activities are reflected in project initiatives for the ASEAN countries in the future. We received the kind cooperation of Mr. Takumi Hirai, who went on the local business trips. He is an associate professor at Poole Gakuin University and expert of Japanese SMEs, and plays a role as a Course Leader for seminars related to SME promotion.
Results of PREX's seminars in the ASEAN region
The ASEAN countries constitute the main region for PREX activities. The Southeast Asian countries established the Association of Southeast Asian Nations (ASEAN) as a regional cooperation organization, and currently 10 countries are members. Two of these countries were our trip destinations, Cambodia and Laos, and they are grouped as the newest member states (Cambodia joining in 1999, Laos in 1997). Since its foundation in 1990, PREX has long carried out training courses and overseas seminars on a wide range of topics for these ASEAN member states. A total of 1,500 people from all over the ASEAN region have attended the seminars in Japan and more than 4,000 have participated in the seminars held overseas, making this PREX's target region with the largest number of participants.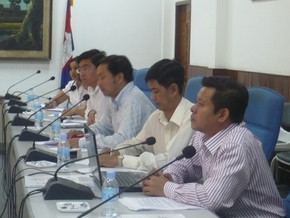 The present state of SME assistance
We surveyed the situation of activities of the SME assistance organizations, eight in Cambodia, four in Laos, in the public and private sectors. In both countries, the promotion of the private sector has been marked as national strategies since 2000. Public-private cooperative committees that consider the promotion of domestic SMEs have been established, and a department of the central government to deal with the promotion of SMEs has been set up. Hence, interest in the importance of SME promotion has been growing gradually. Even so, the attention given to SMEs started about five years ago, and so the current framework has only just been created. Stages for policy implementation or practical application for businesses are nonexistent. Many of the people at the companies told us: "The only thing they do is provide policy, and nothing at all is being applied. There areno places to go for getting advice on management or launching a business. There is little or no public assistance. Private citizens have no choice but to think about these things on their own." On the other hand, private economic organizations, which serve as gathering points for SMEs, have a strong presence, and they have an active approach, including making requests for assistance. When we compare the two countries, we get the sense that in Cambodia the SME assistance system will be established relatively rapidly, as SME promotion has been marked as a national development strategy and private-sector groups have a solid approach. On the other hand, in Laos, even though the strengthening of its private sector was mentioned, the main efforts have been the promotion of mining, power generation and tourism, industries that have been getting attention for being based on the nation's natural resources, and there seems to be little interest in the promotion of supporting industries or starting up new SMEs.
Miyuki NISHIZAKA
Course Planner, International Department
A factory of a company in Laos that makes bread and cake products. Its products are well known in the country and the company is contracted for in-flight meals on Lao Airlines.

Voices of Lecturer 
Assistance for SMEs in Laos and Cambodia: Toward the Creation of Self-Reliant Support Systems 
Mr. Takumi Hirai, associate professor at Poole Gakuin University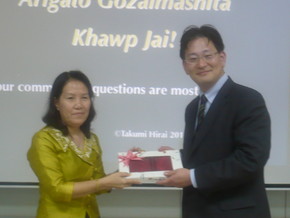 Through our surveys conducted during our recent trips to Laos and Cambodia, we were able to confirm the latest situation in both countries, where information pertaining to SMEs has been scarce and there have been troubles grasping the actual state of affairs. Even though the policy aspects of assistance toward the nurturing of SMEs has barely started in both countries, the creation of assistance systems continues to move forward, mainly by participants who were dispatched to Japan where they completed their seminars. 
We visited a food-processing factory in Laos, an agricultural country with a population of approximately 6.10 million people, and we witnessed for ourselves how SMEPDO, a government SME promotion office, through seminars and periodic visits provides assistance to companies actively engaged in productivity improvements through such means as hygiene management, 5S and Kaizen. 
On the other hand, in Cambodia the active nature of activities by private economic groups, along with assistance from the government support, was impressive. Various organizations have been established since 2000 catering to business scale, category and goals. We also saw how mutual aid efforts were pushing ahead for member companies struggling with insufficient layers of management, through such means as seminars and the offering of information. 
Yet on the issue of creating structures for business assistance, which does not depend excessively on foreign and international organizations, both countries share many of the same issues. Firstly, people there mentioned enhancing the level of confidence of the administrative government in enterprises. There is little awareness among private enterprises that the government is a supporter of business activities, and thus many of these enterprises are stuck inside an informal sector. It will be important to clarify the government's stance toward enterprise activities and to enlighten people so that they link improvements in their living standards with corporate registration and payments of taxes. 
Secondly, systems must be put in place for the policies of the central government to steadily filter into provincial areas and for implementation of SME support measures by local governments. 
The third point concerns the formation of capabilities of assistance providers. Needed are institutional development and improvements in the abilities of human resources capable of implementing effective assistance through both the government and private sector, such as government assistance organizations and secretariats of nongovernment organizations. 
Future seminars on SME policy will be needed to continue cultivating a general appreciation for the importance of public assistance and to further emphasize the practical business aspects. Specifically, issues that should be considered include business management assistance, through SME financing, registration and other forms of institutional development, promotion of social entrepreneurship, business diagnostics, etc.; business matching with such industries as food products; formation of support areas; and complying with international business. 
Along with the development of infrastructure in the Mekong River basin and the acceleration of foreign capital inflows, both countries have the potential to make huge strides economically. Without a doubt, assistance for SME promotion will increase the importance of all these developments.
Project Summary
| | |
| --- | --- |
| Name | Needs surveys and following up in Cambodia and Laos |
| Period | Feb. 14 (Mon.) -27 (Sun.), 2011 |
| Trip Participants | Mr. Takumi Hirai, assistant professor at Poole Gakuin University,PREX Yoshiko Miura, Miyuki Nishizaka |
Date : February 27, 2011
Name : PREX