Do you know Ashikaga-style World 5S Summit?-
PREX

Island
PREX Members

KAIZEN platform


Do you know Ashikaga-style World 5S Summit?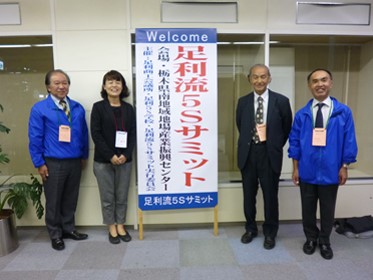 Photo of people who looked after us during the summit: from the left, Mr. Kenichi Negishi, Ashikaga Chamber of Commerce and Industry; Yamauchi, PREX; Mr. Atsuhiko Kimura, representative of Kimura 5S Jissen-sha; Mr. Shoichi Kashiwazaki, Ashikaga Chamber of Commerce and Industry (Yamauchi, International Department)
Ashikaga-style World 5S Summit
Ashikaga-style World 5S Summit takes place every two years in Ashikaga City, Tochigi Prefecture. It is to disseminate Ashikaga-style 5S methods in Japan and to the world. I participated in the 4th summit held on November 2018. The number of participants was approximately 250. Not to mention local people from Ashikaga City, others came from as far afield as Kyushu and Tohoku areas, proving that Ashikaga-style 5S is spreading all over Japan. The summit covered many things such as examples of companies conducting 5S and visits to the companies, and many of the participants seem to have joined to get some clues, as their companies got stuck with their 5S activities or are about to conduct 5S activities. Having seen Ashikaga Chamber of Commerce and Industry, local companies and Ashikaga City work together to operate brilliantly, I had the impression that people work in unison to disseminate Ashikaga, the 5S town, in order to revitalize their local area.
With Ashikaga Chamber of Commerce and Industry at the center, the whole local area established Ashikaga 5S School in 2009 so that the whole local area can promote Ashikaga-style 5S, and activities such as instructor training courses, factory tours and presentations of some 5S examples are carried out there. Ashikaga-style 5S mainly aims "for the workers" and "to pursue the truth". I visited Ashikaga a few times for the Practical Business Training for Central Asia (Ukraine) as PREX organized the training course. All the participants were so impressed with the Ashikaga-style 5S and the local area's activities, and some of them said, "We want to create a 5S town in Ukraine, too." We recommend that you should get to know about Ashikaga-style 5S!
Date : February 21, 2019
Name : PREX Yamauchi