Nursing Clothes Were Given to the Daughter of a Former President of Kyrgyz.-
PREX

Island
Ex-participants

PREX Members


Nursing Clothes Were Given to the Daughter of a Former President of Kyrgyz.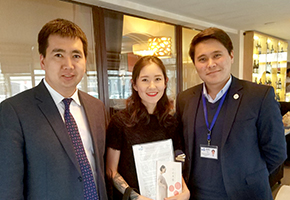 What happened at JICA Kyrgyz Business Owner Advanced Seminar in September 2017!
Participants who visited Mo-house, Co., Ltd. were asked by Ms. Mitsuhata, president of the company, to give nursing clothes as a present to Ms. Aliya Shagieva (in the middle of the photo), a daughter of Almazbek Atambayev (a former president of Kyrgyz), who is raising a baby. The present was given to Ms. Shagieva after their return to Kyrgyz.
Mr. Mederbek Aitbaev (right) and Mr. Ruslan Iliasov (left) explained to Ms. Shagieva President Mitsuhata's thoughts on solving issues regarding child rearing and Mo-house's business activities when they handed her the present. Ms. Shagieva was very pleased with the present and was impressed with Mo-house's business philosophy. She was also interested in Japanese culture, people and beautiful cities, and told them that she would like to visit Japan one day.
In return, Ms. Shagieva has asked them to give a painting, drawn by her as an artist, to President Mitsuhata. We hope that this event helps deepen the relationship not only between Ms. Shagieva and Mo-house but also between Japan and Kyrgyz.
Date : May 7, 2018
Name : Koguchi International Department
Seminar : JICA Kyrgyz Business Owner Advanced Seminar