We wished each other all the best.-
PREX

Island
Ex-participants

PREX Members


We wished each other all the best.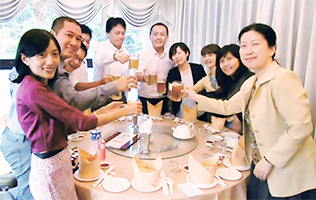 I am Sakai from International Department, PREX. I visited Myanmar, Cambodia and Malaysia in May. During a one-week stay, I saw 35 counterparts and ex-participants. All the ex-participants told me that their business was going well so that I could see economic growth in each country at first hand.
Most people in the ASEAN member countries use Social Networking Service (SNS) and upload various news about themselves and their companies nearly every day. While I do not receive replies by email often, I sometimes get replies through SNS instantly. I have finally bought a smartphone this February and have been realizing the power of SNS every single day. Thanks to smartphones and SNS, I have been able to have a good relationship with ex-participants, keeping in close contact with each other.
What I prioritize as the person in charge of training is that I would like participants to like Japan. For every single person, the countries which your friends are from are special. I think that it is essential for Japan to increase the number of fans of Japan. During the participants' stay in Japan, I would like to do my best for them as much as possible. For example, I was asked by them to take them to some places to buy souvenirs. I recall that they particularly wanted to buy a variety of cosmetics and medicines, and others wanted to buy the same type of table tennis racket which Ai Fukuhara used to use, badminton racket, harmonica, fishing rod, Japanese doll, second hand car and rice cooker. I also had requests that they wanted to go on a one-day trip to hot springs, Mt. Fuji and Japanese inn. All are good memories.
Now, it is no longer the time that Japan teaches them something. Instead, it would be excellent to be able to carry out training in which they deepen their ideas through case studies and Japan as a venue. I also would like to provide useful information not only to participants but also to Japanese people.

With ex-participants who gathered in Cambodia. They are members of the Cambodian Federation of Employers and the Business Association and the Cambodia Chamber of Commerce. They also contact each other, for example by visiting each other's companies. Mr. Van (front right in the photo) is the head of the Garment Manufacturers Association of Cambodia. He is the first Cambodian participant of ASEAN Management Seminar, Kansai Economic Federation in 2010 and 2014.
Date : October 18, 2018
Name : Sakai International Department