A participant from Côte d'Ivoire experienced internship at HAMADA Co., Ltd.! -
PREX

Island
Ex-participants


A participant from Côte d'Ivoire experienced internship at HAMADA Co., Ltd.!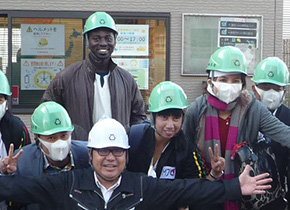 Mr. KoKo Abdon Dominique, a student of Ritsumeikan University from Ivory Coast, has once visited HAMADA Co., Ltd. through PREX training program, which prompted him to experience internship for three months from October 2017.
He visited HAMADA Co., Ltd. in 2016 through the program of "Understanding Japanese Companies" held in 2016 and was impressed with their business and management policies. Then, he enthusiastically requested to experience internship there. During his internship, he enjoyed interaction with young employees there, including exchanging opinions regarding environment issues in Africa, experience of Aikido and even Zen meditation training.
Date : January 30, 2018
Name : Mr. KoKo Abdon Dominique
Seminar : Internship at Hamada Co., Ltd.
job name : a student of Ritsumeikan University