JICA Capacity Development in Sustainable Tourism -Based on Japanese Tradition/ June 11- July 18, 2019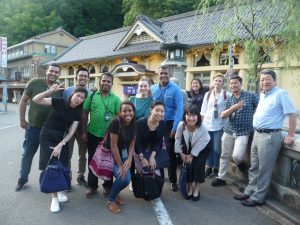 Tourism sector makes an important contribution to economic growth of developing countries , but benefits are not always spread to local people. In order to realize Inclusive Socio-Economic Development, the government, local authorities, private companies and local communities of the area need to work together and play their roles in developing tourism by fully utilizing local resources in the area. In this program, participants gained knowledge to handle the issues by learning policies, regal frameworks and case studies of human resource capacity development for Creating Tourism Destination.
—JICA Capacity Development in Sustainable Tourism -Based on Japanese Tradition "Japanese Hospitality, Omotenashi"(A)
★Date: June 11, 2019 – July 18, 2019
★Participants: This program is offered to the officer of the department of central and local governments that is responsible for the regional vitalization through tourism promotion  10 participants
★Countries: Albania, Bhutan, Bosnia and Herzegovina, Laos, Malaysia, Philippines, Sri Lanka, Timor-Leste, Tunisia
★Course Leader: Osaka Univ. of Tourism Tadashi MORIYAMA Hannan Univ. Nahoko SHIMIZU
★Contents
1)To understand the capacity development in tourism in Japan.
・The Graduate School of Project Design
・Osaka Univ. of Tourism:Prof. Tadashi MORIYAMA
・Ryukoku University:Prof. Tadashi SHIRASU
・Former Kyoto University Graduate School:Mr. Yousuke HIRONAKA
2)To understand strategies, legal system and grant (subsidy) systems in Japan.
・Hannan Univ.:Prof. Nahoko SHIMIZU 
・Japan Tourism Agency
・SME Support Japan
・Kansai District Transport and Tourism Bureau
・Toyooka Municipal Government, Hyogo Pref.
・Kofu Municipal Government, Tottori Pref.
・Kyoto Municipal Government
・Yamato Asuka New Tourism
3) To understand the strategies and experiences of the sustainable regional development through site visits and customer experience.
・Takushoku Univ.:Prof. Takashi YAMAMOTO 
【Toyooka City, Hyogo Pref.】
・Toyooka Tourism Innovation
・Kinosaki Onsen Tourist Association
< Field work>
・Kinosaki hot spring resort: Japanese style Inn/Out door hot springs/ Shopping
<Visit & Observation>
・Kinosaki International Art Center
・Izushi Eirakukan
・Toyooka Municipal Museum of the Oriental White Stork
・KYUKAMURA TAKENO KAIGAN
【San'in District】
・San'in Tourism Organization
・Mount Daisen and Hino River Basin Tourism Promotion Council
<Visit & Observation>
・Tottori Sand Dune's
・Matsue Castle
・Izumo Shrine
・Iuntory Oku-daisen Bunanomori Water Plant
 【Kyoto City】
・Kyoto Ceramic Center
・around Gojo-zaka slope 【Asuka village, Nara Pref.】
・Experience of Homestay 【Himeji City, Hyogo Pref.】
<Visit & Observation>
・UNESCO World Heritage Himeji Castle and Koko-en Garden 【Others】
・Experience of Japanese Culture ~tea ceremony~
・Sakura International Inc.
・MIYAKO International Tourist Co., LTD.
・UNWTO Regional Office in Japan
4) To draft feasible action plans on creating tourism destination and the capacity building of the personnel who contribute to creating tourism destination in their own countries.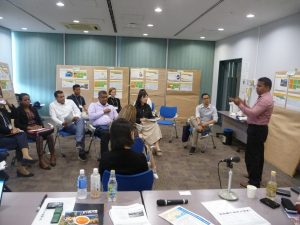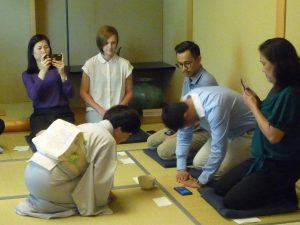 Please send e-mail if you haven any inquiry.
prexhrd-pr@prex-hrd.or.jp