【Voice of Professional】 Interview to Mr. Utsumi, Representative Director, Creation CO., LTD., How is the Kaizen Activities in Your Country?-
PREX

Island
Lecturers / Specialists

KAIZEN platform


【Voice of Professional】 Interview to Mr. Utsumi, Representative Director, Creation CO., LTD., How is the Kaizen Activities in Your Country?

In this column,  we would like to introduce the interview with Mr. Utsumi, Representative Director, Creation CO., LTD., who has been conducting many lessons about KAIZEN, 5S mainly to Central Asian participants.
Including his course, total number of seminar participants are 19, 309 people from 156 countries/regions as of 28th December, 2022.

Here is the Video message from Mr. Utsumi to everyone.
Kaizen under the circumstances with COVID-19
It is exceedingly difficult to continue working on KAIZEN in this Coronavirus situation. How is the situation of Japanese companies? The same is true here also. However, there are companies that continue working on KAIZEN.
These are companies that have continued KAIZEN for 5 or 10 years, or even longer.
So, managers and leaders of such companies deeply understand how important to continued work on KAIZEN.
Depending on the line of business, some companies' sales income has fallen by 30% or even 40%. In situations like this there is the danger of the company going bankrupt. Even if there is no work, there are some companies that encourage staff to come to work for one day and continue working on KAIZEN. However, if staff come to work, labor costs incur. It is a financial burden on the company when there is no work.
Even in a situation like this, management realizes it is important to work on KAIZEN.
This is the case of company I am consulting for.
They are saying,
"Let's go to the company one day a week, say Friday, and utilize that day for KAIZEN." 
"We will turn this adversity in to an opportunity."
"We will gain our business strengths more and increase our profitability."
Though they dose have no work, they have time, so they are now working on KAIZEN projects they wouldn't normally be able to tackle.
Greater KAIZEN for production, human resources
At another company, they were facing the difficulties to increase productivity.
But now in this situation, they do not have work, what they have is time.
So, utilizing this time, they work on greater KAIZEN and change layout greatly for the future improvement.
Educating workers is a part of KAIZEN. For example, A is the only person who can do a certain job. If A is absent, that job cannot be finished without A. In such a situation, isn't it necessary to teach B and C how to do that job instead of A. This is an integral part of KAIZEN.
Like these companies, when the Coronavirus situation ends, if large-scale KAIZEN has been undertaken, personnel will have been more educated and improved, and losses incurred because of the effects of the Coronavirus will be quickly regained. In that sense, having such an attitude and work on KAIZEN is very important even business environment is challenging.
Let's keep working for Kaizen
I suppose everyone's company is facing difficult circumstances. However, I hope that you become positive, and until we meet again, please stay confident and with that attitude work on KAIZEN. Even activities itself is a small one, please keep working for it.
Hope to see you and see the changes you made in near future.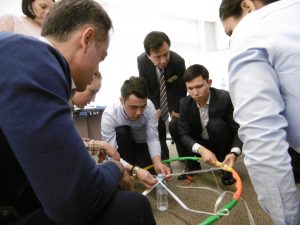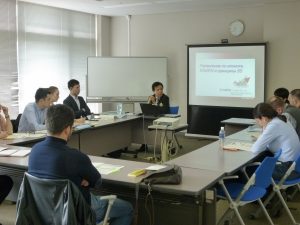 ---
Date : February 6, 2023
Name : Mr. Utsumi
job name : Representative Director

関連記事